Major: Microbiology and Immunology     
Minors: Chemistry, English
Hometown: Horsham, PA
Class Year: 2015, (will graduate from Miller School of Medicine in 2020)
Extracurricular Activities or Clubs: Volunteer at Camillus House
Prestigious Awards Received: Fulbright Scholarship
Professional Goal: Be a competent clinician and educator
Eric Ardman, a Pennsylvania native, came to the University of Miami looking for a unique academic experience. As a recipient of the Fulbright U.S. Student Award for the 2018-2019 academic year, Eric used this accomplishment as a chance to design a one-of-a-kind educational opportunity.   
With the support of the Fulbright grant, Eric is currently in Hanoi, Vietnam where he is developing ongoing workshops and training for medical students at Hanoi Medical University (HMU), to encourage a better understanding of challenges faced by the LGBTQ community and to promote quality health care.
"I will be working with HMU to incorporate what amounts to LGBTQ sensitivity training (similar to Safe Space at UM) for their medical students into their curriculum," Eric said. "This will fit into HMU's larger curriculum reform, which aims to model their curriculum on US medical education."  
The Fulbright U.S. Student Program is the largest international exchange program. With a Fulbright grant, students can pursue opportunities to study, research and teach abroad. Applying for the Fulbright was a way for Eric to connect his interests in Vietnamese culture, social justice and medicine.
When asked about why he applied for the Fulbright, Eric said, "I liked that the Fulbright would support a project and that the project only had to be feasible and vouched for by the host institution. The committee recognizes that once you're on the ground and you can fully appreciate your circumstances and the environment in real-time, the project may need to change. I liked that versatility. But really, I just wanted to get back to Vietnam by any means possible."
Eric's initial interest in Vietnamese culture intensified as a result of his own personal experiences traveling to Vietnam. While at UM, Eric decided to further develop his understanding of Vietnamese by enrolling in the Directed Independent Language Study (DILS) program. Eric credits the DILS program for helping him make great strides in his knowledge of Vietnamese and he encourages other students interested in applying for the Fulbright to utilize their resources and build a support system.
"I could not have learned Vietnamese alone," Eric said. "The DILS program really kept me going during my time in undergrad and it was through DILS that I made connections with an NGO [non-governmental organization] in Vietnam to return in a public health/medical/educator capacity. That NGO was what connected me to Hanoi Medical University, which will be supporting me in my Fulbright year."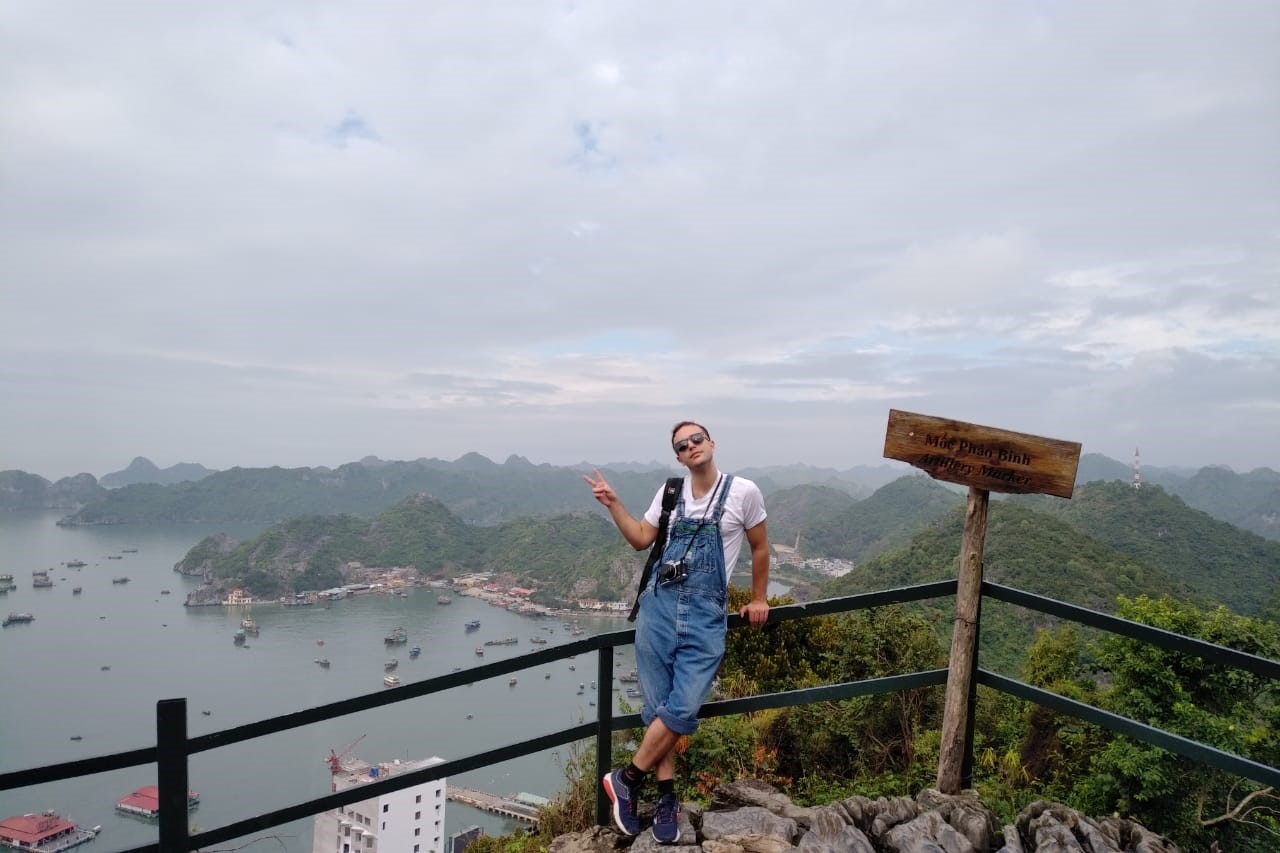 In the months since he began his Fulbright project, Eric is learning how to best navigate his academic and personal experiences.
"Navigating a different culture, of my host institution as well as Vietnam in general, while learning the ins and outs of how to conduct quality research has been a learning process," Eric said. "Luckily, I've been given the support I need to thrive and grow as a professional and person."
In addition to the development of his project, being in Vietnam has given Eric the opportunity to grow in additional ways.
"I have been given the time and environment to improve my Vietnamese by leaps and bounds," Eric said. "I cannot fully describe what this has meant, what the impact of my language skills has been on my work and life, in words alone."
Throughout the Fulbright application process, Eric leaned on his support system and credits them for his success.
"There are many people I would like to thank for this accomplishment," Eric said. "First, my parents for their unending support. Second, my first Vietnamese tutor, Huong Nguyen and by extension, Dr. Maria Kosinski for running the DILS program and cheering me on over the past five years; Dr. Sonjia Kenya and BreAnne Young for their support as well. Last, I must give a shout out to all of my friends and support in Vietnam, particularly Hoa Vu, Dr. Oanh and everyone at the Center for Supporting Development Initiatives; Dr. Kevin Mulvey, and my very good friend, Annie Vu. This would not have been possible without them."
After the conclusion of the Fulbright grant period, Eric plans to return to UM where he expects to complete his medical degree in 2020. After graduation, Eric plans to work as a clinician continuing to support marginalized populations with limited healthcare access in both the U.S. and in Vietnam.