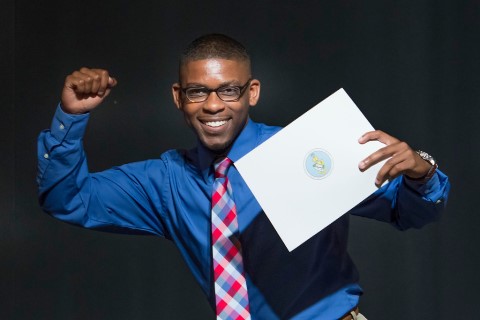 Arrix at the Office of Academic Enhancement's Recognition Reception
As a former Foote Fellow and Ronald A. Hammond Scholar, Arrix Ryce knows a thing or two about interdisciplinary pursuits. He came to the University of Miami from Birmingham, Alabama, with the express purpose of immersing himself in a new environment. While at UM, he managed to carve out a place for himself and his varied academic interests through the pursuit of a B.S. in biochemistry and nutrition and a B.A. in religion, medicine, and society with minors in chemistry and biology.
Two summers ago, he was the recipient of the ACC-IAC Creativity and Innovation Fellowship, an award that funds students who are pursuing independent summer projects. Arrix researched the role of religious groups in the development of environmental stewardship and population health in Philadelphia. This project was an extension of work he began during a life-changing semester abroad in the Galapagos Islands.
Earlier this year, Arrix applied for the Frost Scholarship Programme at Oxford, a prestigious award that covers a master's degree in a STEM-related field at the University of Oxford in England. While he hoped to win the award, nothing prepared him for the notification.
"When I found out that I had been awarded the Frost Scholarship I was shocked. I read the award letter, stared at my computer for a minute or two, then read the award letter again—just to be sure I wasn't dreaming," Arrix said.  The first-ever Frost Scholarship Programme recipient from UM, Arrix plans to study social data science at Oxford, and then, he will start medical school at Emory University.
April Dobbins, director of prestigious awards and fellowships, has worked with Arrix over the years as he applied for opportunities. "After his first award rejection, I was worried that he would give up on prestigious awards. Persistence really is key when it comes to selective awards," Dobbins said. "Luckily, Arrix kept coming to the office and really committed to polishing his applications. The Frost Scholarship is perfect for him."
Arrix graduated this past May and spent his summer back home in Birmingham, Alabama, teaching at a Zoo Camp for kids. While this was a departure from his traditional research jobs, it allowed him to share his love of learning with a younger generation and to spend time with his family before leaving for England. He'll stay in touch with his future medical school mentors at Emory while away. 
"Leaving UM in May was bittersweet because I made so many meaningful connections there, but I'm excited for Emory because it already feels like home—a place where I'll be surrounded by a community of dynamic and supportive mentors and peers," Arrix said.
Arrix's ultimate goal is to become physician-scientist who aids health systems provide compassionate, high-quality care by using health-related data and computational methods to identify and characterize the health-related needs of patient communities.